Author: Johnnie Sue Bridges

"In the beginning God created the heaven and the earth. And the earth was without form, and void; and darkness was upon the face of the deep. And The Spirit of God moved upon the face of the waters." ~Genesis 1:1-2
Autographed Books Available!
4th and final book of the series, From the BOTTOM to the Grave 
Just Published!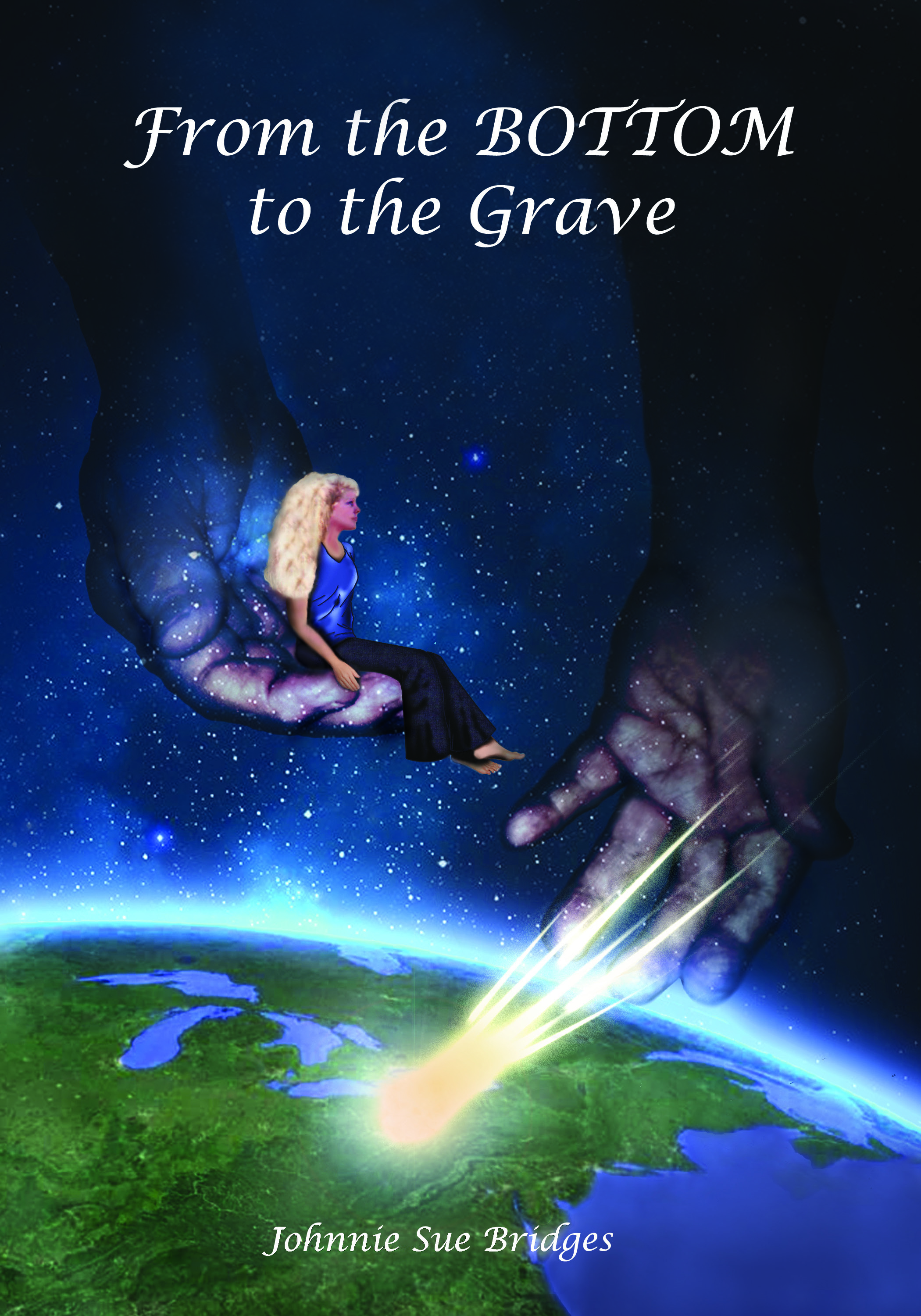 From the beginning of Shadows And Scars, through the journeys of
Motown Girl Sister Golden Hair, and Run BabyGirl Run, I now give you the finale of my series, From the BOTTOM to the Grave.
Many have said my books read like fiction; I assure you they are not. When peering into the portal of one's life it is hard to imagine that a person could experience so many things as I have shared with you, but we all have a story.
It has taken me nearly thirty years to write and publish the series. So many times I was deeply broken by returning to the scene, but without fail, God always picked me up and mended me back together so I could continue on. I thank HIM for that, for without HIM, there would be no me. By all rights, I should have died many times over. Sometimes I feel as though I did.
My family members are very strong people. Their stories were hard but true, as well, and I am so very proud of them. Our testimonies represent the very essence of strength and resilience, a direct result from faith in our Lord Jesus Christ, Who is and was victoriously triumphant in our lives.
I have traced the DNA of my family roots from many exciting places around the world, but my story unfolds in a very unique place deep within the mountains of Appalachia, in Middlesboro, Kentucky. Geologists have proven that my little town was built inside the bowl of a meteorite crater formed by an asteroid millions of years ago. I often smile to myself as I picture God placing me there.
Yes, I was born in the BOTTOM of a crater.
As I said, each individual has a story…this is mine.
Author: Johnnie Sue Bridges
Available directly from the author only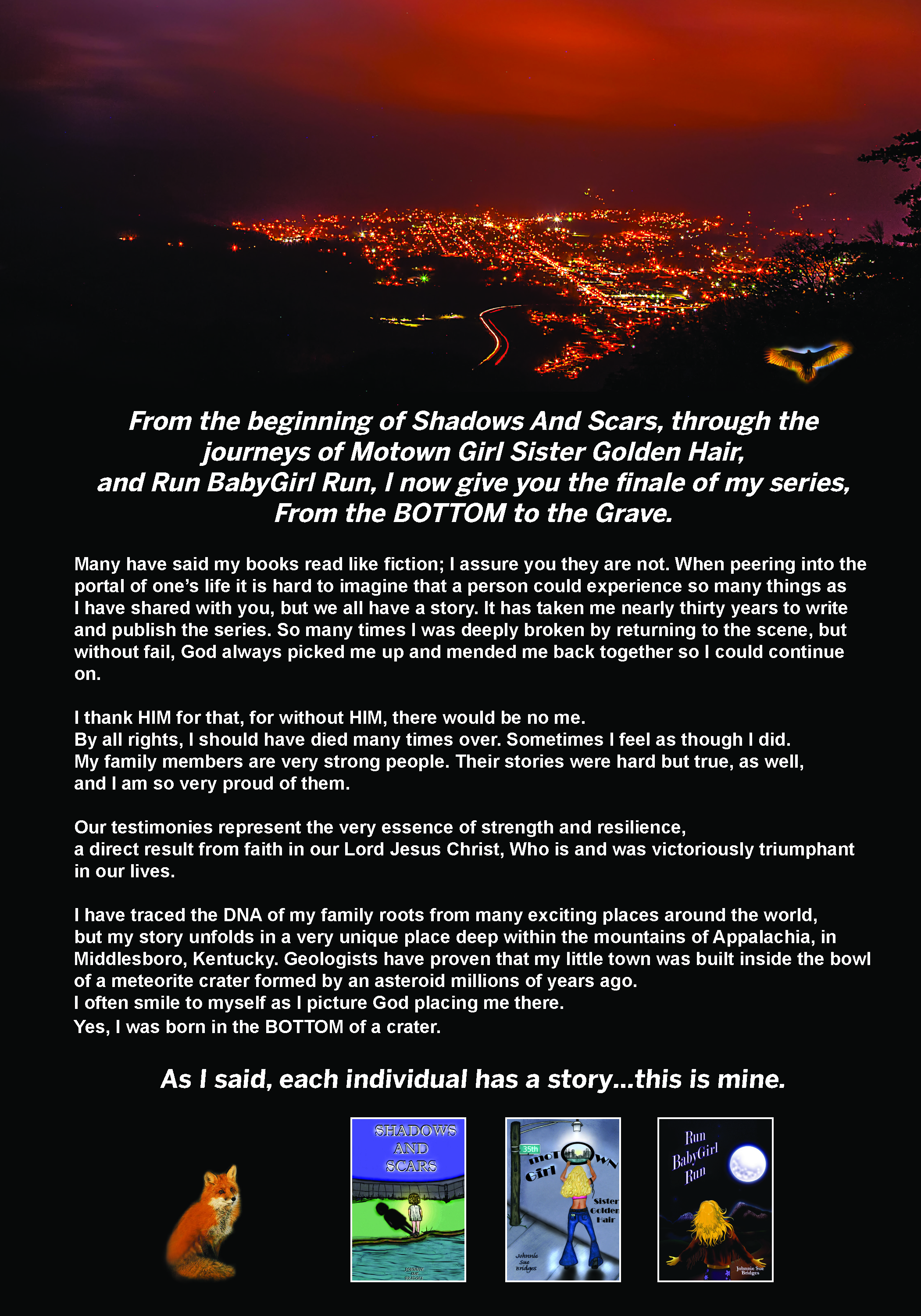 3rd Book of the Series, Run BabyGirl Run
The year was 1973. A fourteen-year-old girl hitchhiked across the country to the Pacific Coast, then back to the Atlantic Ocean. Her mother died when she was only eleven years old and never knowing a father, there had to be a way of validating her very existence and to discover why she was on this planet. The answers were all around her; however, she would not be able to recognize them until years later. Meeting with many life-threatening situations, it's a thousand wonders she is still alive to tell her story. Run BabyGirl Run is written with gutwrenching honesty and allows the reader to see into the very depths of this beautiful young girl's soul. Editor: Jackie Hurst
Author: Johnnie Sue Bridges
Available directly from the author, online, and E-Book
2nd Book of the Series, Motown Girl Sister Golden Hair
Author: Johnnie Sue Bridges
Love, laughter and lessons learned
MIDDLESBORO — Everyone can relate to sitting down with friends and reminiscing about old times. No matter how young or how old you may be, everybody has a story of "back in the day." Memories of love, laughter and lessons learned are what makes us unique in who we are. Simply put, those memories are our life. 
The story of life for Middlesboro native and highly acclaimed author Johnnie Sue Bridges in her second biographical release, Motown Girl Sister Golden Hair is one that cannot go unnoticed. Motown Girl is a book that breaks your heart, mends it back together, brings a smile to your face, tears to your eyes and ultimately gives you a sense of serenity, knowing that we are not our own keeper.
Motown Girl Sister Golden Hair is set in the 1970's and depicts Bridges' life as an adolescent. Growing up in the inner city of Detroit, Mich. was rough for Bridges and she often resorts to violence to protect herself, her siblings, and her reputation.
As a girl, Bridges struggles to cope with relocating and adapting to life in the big city, following her family's move from Middlesboro. She constantly wrestles with the loss of her mother and continually tries to hide her grief. Due to her mother's passing, Bridges is forced to live with her grandmother — a woman who continually expresses her emotions through "tough love."
While still a teen, Bridges turned to drugs to fit in with her environment and as a coping mechanism. Several times, Bridges refers to getting high or drunk, alongside her friends and family members. But in the end, Bridges discovers that she wants more out of life.
"No one told us that stuff would kill ya," states Bridges in Motown Girl: Sister Golden Hair.
Nearing the end of the book, Bridges learns the devastating outcome of drug abuse as she watches those near and dear to her heart begin to fall away as a result of "hard life." At that point, Bridges seeks change — she gives her life to God. She turns to a higher power for the questions, answers and success of her career.
After reading Motown Girl, I felt a close connection with Bridges: A sympathy and a similarity. The stories she writes about are in-depth and personal; they are heartfelt and moving; they are honest, emotional and nothing but the truth. God is in control! I feel as if I've known Bridges my entire life, and would recommend everyone else to know her, too, by reading Motown Girl: Sister Golden Hair.
Motown Girl Sister Golden Hair, the sequel to Bridges' first release Shadows and Scars, is available now through online retailers: Target, Barnes & Noble and Xlibris. You may also order Bridges' books by phone at (888) 795-4274 extension 7876. Bridges also hosts a website at www.johnniesuebridges.com and a communitive myspace.com page.
Sarah Miracle is a staff writer for the Daily News. She can be contacted via e-mail at smiracle@middlesborodailynews.com.
© middlesborodailynews.com 2009
 Available directly from the author, online, and E-Book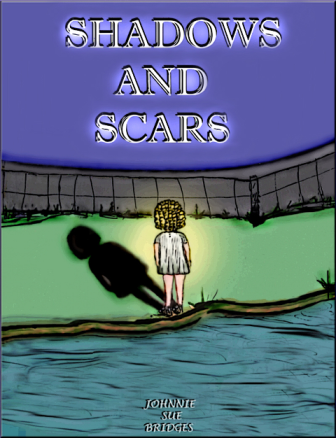 1st Book of the Series, Shadows And Scars
Author: Johnnie Sue Bridges
Archives > News:

Updated: Tuesday, October 9, 2007 10:19 AM EDT

---

New book has Middlesboro at its heart

By Brandy Murray Calvert/Staff Writer

MIDDLESBORO — Johnnie Sue Bridges (Woodby) recently released her book, "Shadows and Scars", a story that chronicles her experience of leaving Middlesboro and moving to Detroit, Mich. as a young child.

Bridges lends readers her own description of her book: "The night we left Middlesboro, Kentucky, was a cold blue night. As we passed by the stock barn where we had been so many times before in the warmth of a beautiful sunny day, I thought to myself, 'Something tells me I will never see this place again.'

There was no heat in the car, and the bitter icy cold winds blew up through the back seat where Linda Gail and little Junebug sat holding each other, wrapped in a quilt shivering, but without saying a word. We were so cold, and I was so angry. As I silently wept, I must have dozed off.

When I woke, it was daylight, and we were in Kenosha, Wisc. I looked out the window and my first thought was, 'The only difference between this place and Hell is- fire and ice.' And if I had thought for one second that Wisconsin was Hell on earth, I was really in for a rude awakening.

We arrived in downtown Detroit on a Greyhound bus in the wee hours of the night, right after the riots. Never in all my life had I ever seen such a wretched place."

"Shadows and Scars" is set in the 1960's. The book details not only Bridges' young life, but also presents a young mother's fight against poverty, loneliness, alcoholism, and judgment by her peers.

Bridges' editor, Heidi George writes, "'Shadows and Scars' is a beautiful book that captures the essence of the south with vivid imagery, comical moments, and raw emotion. It concludes with a little girl lost in the inner city of Detroit, confused, alienated, and frightened in a place far different from Middlesboro."

"Shadows and Scars" is available online at several locations and is available for order with most major retailers.

Brandy Murray Calvert is a Staff Writer for the Daily News. Contact her via e-mail at bmurray@middlesborodailynews.com.

Available directly from the author, online, and E-Book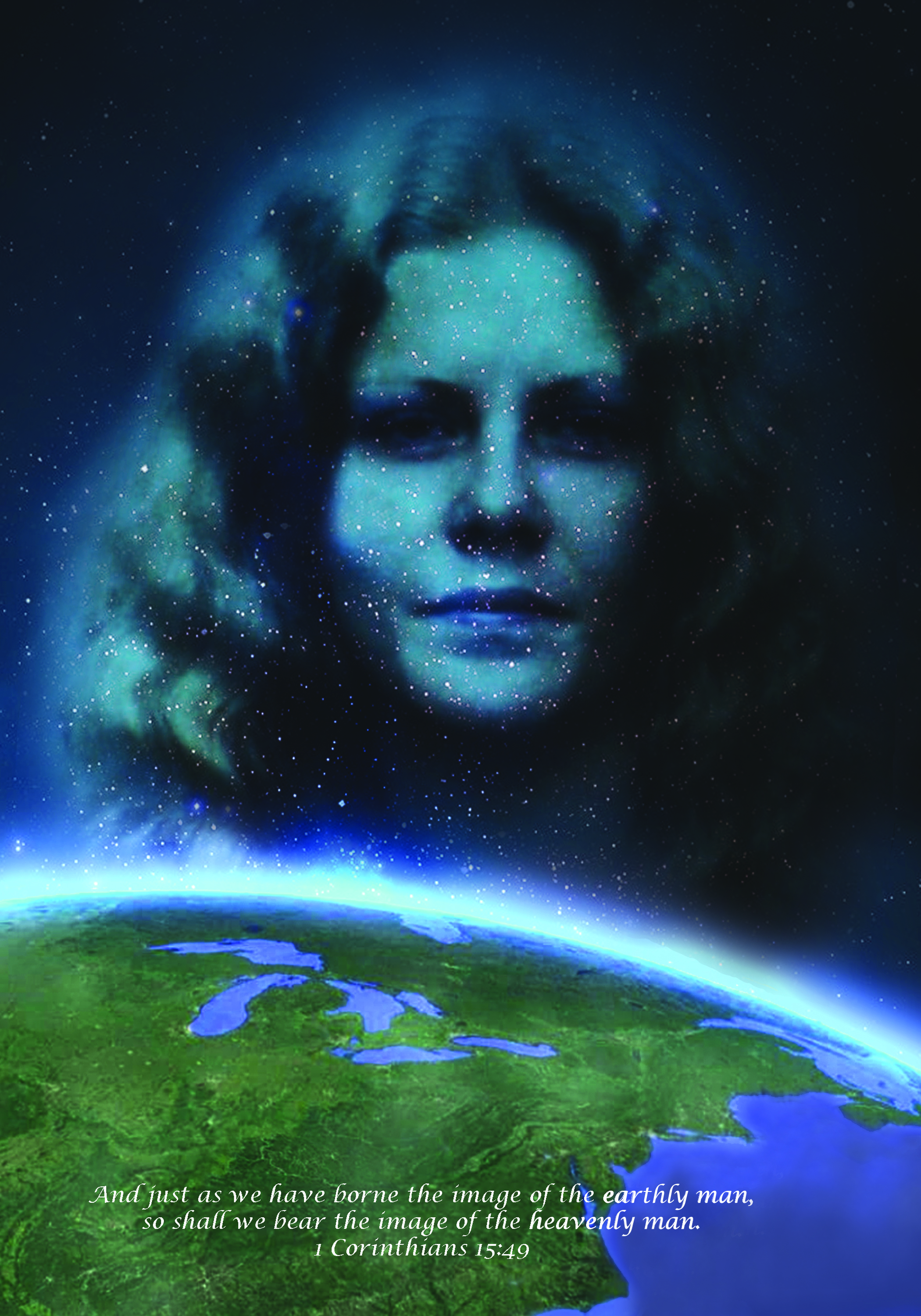 All Four Books of the Series
Available Now!
©2006-2010 JOHNNIESUEBRIDGES.COM. All rights reserved.
Powered by WordPress